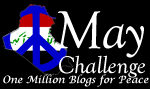 One Million Blogs For Peace is an online effort to recruit bloggers to connect and post topics about the war- many of you have probably seen variations of their "Tuesday Topics" theme. During the month of May, they are having a recruitment drive- and many familiar folks are near the top! (see challenge rankings *here*)
Journeys With Jood is a top contender!
What other actions are going on around the blogosphere?