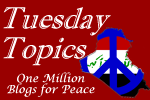 "Tuesday Topics" are part of an ongoing effort online to encourage discussion about the war in iraq, and it is also part of an organizing effort called "One Million Blogs For Peace." You can learn more about this effort by using the sidebar links. On Tuesday, they give a topic:
"Over 1,000 Iraqi civilians have been killed since three US soldiers were kidnapped in Iraq.
During that time, the predominant focus of thousands of US troops has been to locate those three soldiers.
What does this say to you about the priorities and ethos behind the Iraq War?"


See, here's the thing. There are thousands of Americans who have no problem whatsoever with this statement. There are thousands of Americans who feel that one American life is absolutely worth far more than the lives of people in Iraq and not only do they feel this way- they pursue this as a matter of policy. They think that people who believe otherwise are ridiculous. Criminals. Against the soldiers. never mind the fact that there is another way to look at it- nobody dying.

Point is, they do not feel that this is an issue.
If casualties can be minimized with a bomb for example detonated from a remote location, we know that this saves the lives of soldiers but the odds are not very good for civilians. We are told that efforts are made to select targets, mindful of this reality. Mistakes happen. But the idea is in keeping with the premise that it is worth shifting the risk to prevent casualties even if it means that the tactic might increase civilian death. Look at the use of white phosphorous, as an example. From the standpoint of many in the military, it is worth it to use this chemical for location and threat minimizing purposes even if it might mean the identification of a civilian who is not a threat but is perhaps hiding from violence or who has sought shelter. This is not chemical warfare- they see it as risk reduction. I think we have to wrap our heads around that thinking if we are going to try to understand it.

We have to understand that there are folks out there who remain wholly unmoved by this statement (Tuesday Topic) and in fact, see efforts to bring "humanity" to war as an oxymoron synonymous with treason. These folks see the use of torture, for example, as an unfortunate means to an end and the response to an agenda that we cannot be held responsible for. "If they did not want to be punished, they should not have ____"

Fill in the blanks. They should not have brought those buildings down. They should not have sheltered terrorists. They should not have funded anti-American rogue Islamafascists. They should not dare to suggest that the West is evil, imperialistic, immoral. And so on. No matter how you fill in those blanks, it comes down to a sense that there are categories of the deserving, people who "get what they get".

It does not help to focus on civilians, as they are enablers. Future gun toters. Future enemies stopped sooner, rather than later. They are not moved by the tallies.

It does not help to appeal to humanity. They see "them" as devoid of humanity. It doesn't even seem to matter if we appeal to cost. To the price tag. Part of why this continues despite the will of the people is that there isn't an argument presented on our side that they remotely give a dman about. Change will remain elusive, peace impossible.

That is my response to the Tuesday question, my response is that we know and collectively, we don't care. The people who do care cling to a continuum- ranging from slight discomfort to the die-hard activist. But there are far too many on the "discomfort apathy" end. The key perhaps might be found in tilting the scales. Pushing the "upset, but what can I do?" folks toward the action folks. Engagement. Pulling people into efforts, both big and small.

So- that is part of the idea of One Million Blogs For Peace. That is part of the idea behind marches, rallies, letters, and placards. It is about a hope-that perhaps action will get increasingly more productive, constructive...to affect change.